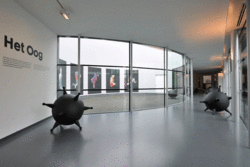 In 2009 I was invited to create a project for the Van Abbe Museum in Eindhoven. The museum was creating a new space called Het Oog, or The Eye.
It was given its name because from within this space, a curving courtyard, one held a vantage point to view the entire museum. A hemi - panopticon of sorts.
I decided to paint five images across this curving wall, five images that I had been working with for years. Images that originated in the media, ranging from Afghanistan to Iraq. In a sense these images were borne of the lens the Western media trained upon instances of war, terror and famine in lands far from their shores. Over time they had been turned to drawings, had ignited photo-shoots in my studio where friends and myself posed in similar ways... and had been subject to many a discussion.
I sytematically working on the five images, moving from a line drawing to fleshing the images in. Visitors were informed when I was at work and could approach me, if they wished, thus opening the process of painting to the audience.